THIS IS A DEMO SITE FOR THE CORPORATE CLEAN THEME. PLEASE DO NOT CHANGE THE THEME.
Shackled: A Journey From Political Imprisonment To Freedom (Paperback)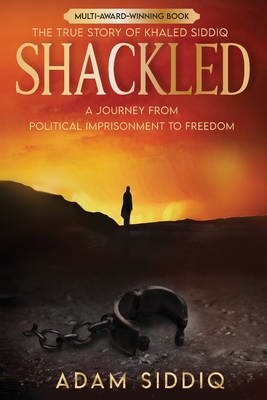 $14.95
Usually Ships in 1-5 Days
Description
---
SHACKLED has been honored as one of the Shelf Media Group's Notable 100 books of 2019, the Biography winner of the 2019 Independent Press Award, 2018 Global E-Book Awards, 2018 International Book Awards, 2019 Pinnacle Book Achievement Award, 2018 Audiobook & Biography Awards Winner of the Royal Dragonfly Book Awards, 2018 Grand Prize Winner of TCK Reader's Choice Awards, 2018 Book Life Prize Biography Winner, and many more summing up a total of fifteen awards.
Khaled Siddiq "Charkhi" is only six years old when he and his entire extended family are imprisoned. Following a grand betrayal, Khaled's father and uncles, the respected right-hand men to the King of Afghanistan, become targets of the new regime. Khaled's father is exiled, his uncles are executed, and their families are locked away in a forgotten corner of Kabul.
So begins a decades-long struggle in captivity where Khaled faces the hardship of prison life while enduring tragedies as more of his loved ones are executed and succumb to diseases. Despite the tribulations he experiences, Khaled never gives up hope, choosing to make the most of his time by studying five different languages, advanced literature, and philosophy. Eventually, Khaled and his family are released from prison, but are they truly free? Forbidden from leaving the country, one thing continues to haunt Khaled: a longing to reunite with his father.
SHACKLED is a raw, heart-opening story about resilience. It follows the Charkhi family from the 1932 coup to the 1979 Soviet invasion. Amidst national and personal upheaval, Khaled finds his freedom by choosing to lead a life of optimism, kindness, joy, and love.
Adam Siddiq is the grandson of Khaled Siddiq. Adam wrote SHACKLED alongside his grandfather, Khaled--a shared journey they hope will inspire others to become more involved in the sacred bond between the youth and their elders.