THIS IS A DEMO SITE FOR THE CORPORATE CLEAN THEME. PLEASE DO NOT CHANGE THE THEME.
The Best Cook in the World: Tales from My Momma's Table (Hardcover)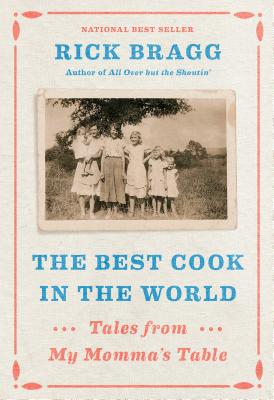 May 2018 Indie Next List
---
"This is the funniest cookbook in the world! Packed with old fashioned southern recipes, Bragg's brilliant storytelling and old black-and-white photographs bring his relatives to life. From lost cows to dead hogs to giant turtles, his stories feature grandparents and great grandparents, aunts and uncles. But most of all, his mother's voice comes through loud and clear. More than anything, you are taken by the back-and-forth between Bragg and his down-to-earth, matter-of-fact, shy but feisty mother. I absolutely loved this book! And I recommend the pecan pie!"
— Helen Stewart, Quail Ridge Books, Raleigh, NC
Description
---
NEW YORK TIMES BESTSELLER 

From the beloved, best-selling author of All Over but the Shoutin', a delectable, rollicking food memoir, cookbook, and loving tribute to a region, a vanishing history, a family, and, especially, to his mother. Including seventy-four mouthwatering Bragg family recipes for classic southern dishes passed down through generations.

Margaret Bragg does not own a single cookbook. She measures in "dabs" and "smidgens" and "tads" and "you know, hon, just some." She cannot be pinned down on how long to bake corn bread ("about 15 to 20 minutes, depending on the mysteries of your oven"). Her notion of farm-to-table is a flatbed truck. But she can tell you the secrets to perfect mashed potatoes, corn pudding, redeye gravy, pinto beans and hambone, stewed cabbage, short ribs, chicken and dressing, biscuits and butter rolls. Many of her recipes, recorded here for the first time, pre-date the Civil War, handed down skillet by skillet, from one generation of Braggs to the next. In The Best Cook in the World, Rick Bragg finally preserves his heritage by telling the stories that framed his mother's cooking and education, from childhood into old age. Because good food always has a good story, and a recipe, writes Bragg, is a story like anything else.
About the Author
---
Rick Bragg is the author of eight books, including the best-selling Ava's Man and All Over but the Shoutin'. He is also a regular contributor to Garden & Gun magazine. He lives in Alabama.
Praise For…
---
"Wonderful, rollicking, poignant, sometimes hilarious tales about how generations of Bragg's extended family survived from one meal to the next."
—USA Today (four stars)

This book is a tribute, a monument, to his mother and her people, captured here in solid recipes for good food... All the stories in this book... gleam with a special luster; they've been polished by time, and no one is meant to get hung up on the details."
—The Wall Street Journal

"A beautifully written memoir... For readers who crave soul with their recipes this is a fitting tribute to foodways that are fast escaping."
—Library Journal (starred review)

"Bragg's entertaining memoir is a testament that cooking and food still bind culture together."
—Publishers Weekly (starred review)

"Heartfelt, often hilarious stories from an Alabama kitchen, a place from which issue wondrous remembrances and wondrous foods alike...Affectionate, funny, and beautifully written: a book for every fan of real food."
—Kirkus (starred review)

"His prose evokes the sights, sounds, and smells of a rural Alabama kitchen and transforms apparent poverty into soul-satisfying plenty."
—Booklist (starred review)

"Marvelous... uproarious...These stories shimmer and shine, casting a Southern spell with Bragg's gorgeous prose... The Best Cook in the World is Julia Child by way of the Hatfields and McCoys. Margaret Bragg can cook up a storm, while Rick Bragg writes with a powerful, page-turning punch. The result is unimaginably delectable."
—BookPage

"Rick Bragg serves up a feast of love... [A] love song to the woman who raised him and who has been his greatest muse."
—The New Orleans Advocate

"Bragg is a soulful storyteller, a reporter with a poet's eye, and an appreciative diner. Most of all – here, as with earlier family memoirs – he's a ferociously devoted son... Bragg has a bone-deep empathy for people who endure hard times, and leverages that understanding to share even second-hand stories."
—The Christian Science Monitor

"If you let it work its culinary magic, The Best Cook in the World will probably transport you to Alabama...New York, L.A., San Francisco, and Parisian gourmets and gourmands will find a lot to enjoy in The Best Cook in the World. They may want to surrender their beloved palates at least for a meal or two and savor Rich Bragg's amazing culinary world."
—New York Journal of Books

"Readers of this book will learn about Bragg's mother's kitchen, of course, but also about what makes food good, and what role food can play in a family and in a culture. Just thinking about this book is making us hungry."
—Bookish

"The beloved author of All Over but the Shoutin' has written a loving tribute to his mother, the South, stories, tradition, and a disappearing way of life."
—Saturday Evening Post