THIS IS A DEMO SITE FOR THE CORPORATE CLEAN THEME. PLEASE DO NOT CHANGE THE THEME.
The Prince of Frogtown (Paperback)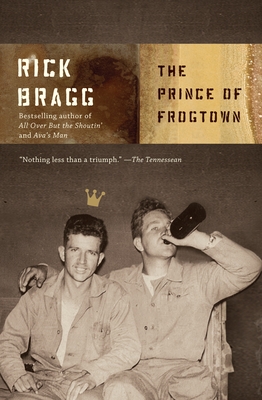 Description
---
The final volume of Rick Bragg's bestselling and beloved American saga documents a mesmerizing journey back in time to the lush Alabama landscape of Rick's youth, to Jacksonville's one-hundred-year-old mill and to Rick's father, the troubled, charismatic hustler coming of age in its shadow.

Inspired by Rick Bragg's love for his stepson, The Prince of Frogtown also chronicles his own journey into fatherhood, as he learns to avoid the pitfalls of his forebearers. With candor, insight, and tremendous humor, Bragg seamlessly weaves these luminous narrative threads together and delivers an unforgettable rumination about fathers and sons.
About the Author
---
Rick Bragg is the author of two best-selling books, Ava's Man and All Over but the Shoutin'. He lives in Alabama.
Praise For…
---
"Nothing less than a triumph."—The Tennessean"Powerful.... [Bragg is] a storyteller on a par with Pat Conroy." —Denver Post"Rick Bragg has made of the dark shadow in his life a figure of flesh and blood, passion and tragedy, and a father, at last, whose memory he can live with. And that is no small thing for any man to do." —The New York Times Book Review"Bragg writes in that sumptuous, multilayered, image-rich Southern yarn-spinning manner that seduces as fast as you can read it. It unwinds beautifully."—The Providence Journal"With The Prince of Frogtown, Bragg finds a heartening truth: He is not doomed to take up the defects of his forebears but learns instead to use them as a compass.... Readers will relish the journey."—Rocky Mountain News"Vivid.... An evocative family memoir."—Boston Globe"By turns gut-wrenching, hilarious and heartbreaking.... A way of looking hard at the past in order to break free of it." —St. Petersburg Times"Bragg crafts flowing sentences that vividly describe the southern Appalachian landscape and ways of life both old and new. . . . His father's story walks the line between humorous and heartbreaking . . . This book, much like his previous two memoirs, is lush with narratives about manhood, fathers and sons, families and the changing face of the rural South."—Publishers Weekly (starred review)"Smooth and rich as bourbon."—Kirkus"Bragg continues in the vein of his legendary storytelling, breathing life into a father he barely knew while learning to love a son."—Library Journal