THIS IS A DEMO SITE FOR THE CORPORATE CLEAN THEME. PLEASE DO NOT CHANGE THE THEME.
I Voted: Making a Choice Makes a Difference (Hardcover)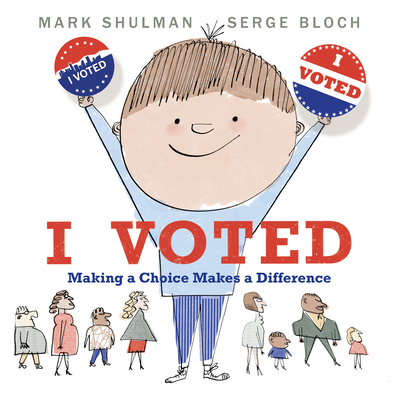 $18.99

Usually Ships in 1-5 Days
Description
---
With the next presidential election upon us, this witty, nonpartisan book will help explain the concept of voting to the youngest readers.

I Voted explains the concept of choosing, individually, and as a group, from making a simple choice: "Which do you like better, apples or oranges?", to selecting a class pet, to even more complicated decisions, like electing community representatives.

You may not always get want you want, but there are strategies to better your odds!

Serge Bloch's effortless and charming illustrations paired with Mark Shulman's funny and timely text create a perfect resource for discussing current events with your children.

Backmatter includes information about the United States electoral process.

Selected for the CBC Champions of Change Showcase
A Junior Library Guild Selection!
About the Author
---
Mark Shulman has authored over 150 books, including the picture book Mom and Dad are Palindromes. His debut novel Scrawl was an ALA/YALSA pick for Best Fiction for Young Adults title. Shulman lives in New York City.

Serge Bloch is a society of Illustrators Gold Medal winner and the recipient of France's Baobab Award. He illustrated Susie Morgenstern's A Book of Coupons, named an ALA Batchelder Honor Book, and has written and illustrated numerous books for children and young adults including One Proud Penny written by Randy Siegel. He lives in Paris.
Praise For…
---
"What does it mean to vote, and how do we do it? I admire picture books that use entertaining narration and appealing art to teach children about things we assume — often wrongly — they understand. Shulman starts in school ('Imagine you're choosing a classroom pet') and moves on to the nuts and bolts of selecting our government. Bloch's frisky line drawings make democracy look like a ton of fun, and the coveted 'I Voted' sticker, of course, provides a brilliant ending."—The New York Times

"In a fraught political epoch, partisan angst often makes its way into books for young readers. So hats off to Mark Shulman and Serge Bloch for keeping things even-tempered with 'I Voted', a picture book that introduces children ages 3-7 to a basic democratic concept without trying to instill anxiety or indignation. The text is clear and lively, and Mr. Bloch's stylish, color-splashed line drawings . . . expand on it in a humorous way."  —The Wall Street Journal

"Comprehensive and forthright."—Kirkus Reviews


"Bloch's balletic ink line—punctuated with color washes and textural elements in red, white, and blue—and Shulman's crisp prose means there'll be no sleeping through this civics class. . . . A simple volume with a vital message'"— Publishers Weekly 


"Bloch's cheerful red, white, and blue illustrations pair perfectly with the text, producing a joyful, engaging book that encourages responsible citizenship."—School Library Journal

"Shulman leads pre- and primary schoolers through the voting process, from the concept of making a choice through to the sticker hopefully presented to the youngster who tags along with a voting adult. . . . Bloch's cast of diverse citizens are rendered in roughly sketched black line and splashes of color that happily overrun their outlines, adding a touch of sophistication that gives the title the flexibility to span grade levels."—The Bulletin of the Center for Children's Books