THIS IS A DEMO SITE FOR THE CORPORATE CLEAN THEME. PLEASE DO NOT CHANGE THE THEME.
Birds of New Guinea (Princeton Field Guides #97) (Paperback)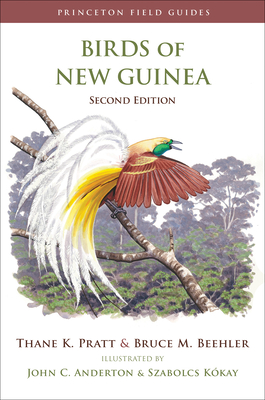 $49.50

Usually Ships in 1-5 Days
Description
---
The definitive field guide to the marvelous birds of New Guinea
This is the completely revised edition of the essential field guide to the birds of New Guinea. The world's largest tropical island, New Guinea boasts a spectacular avifauna characterized by cassowaries, megapodes, pigeons, parrots, cuckoos, kingfishers, and owlet-nightjars, as well as an exceptionally diverse assemblage of songbirds such as the iconic birds of paradise and bowerbirds.
Birds of New Guinea
is the only guide to cover all 780 bird species reported in the area, including 366 endemics. Expanding its coverage with 111 vibrant color plates--twice as many as the first edition--and the addition of 635 range maps, the book also contains updated species accounts with new information about identification, voice, habits, and range. A must-have for everyone from ecotourists to field researchers,
Birds of New Guinea
remains an indispensable guide to the diverse birds of this remarkable region.
780 bird species, including 366 found nowhere else
111 stunning color plates, twice the number of the first edition
Expanded and updated species accounts provide details on identification, voice, habits, and range
635 range maps
Revised classification of birds reflects the latest research
About the Author
---
Thane K. Pratt is wildlife biologist emeritus at the U.S. Geological Survey's Pacific Island Ecosystems Research Center and a conservationist of birds of the tropical Pacific. He is the lead editor of Conservation Biology of Hawaiian Forest Birds. Bruce M. Beehler is an ornithologist in the Division of Birds at the Smithsonian National Museum of Natural History and a tropical ecologist with interests in the birds and rainforests of the Asia-Pacific region. He is the author of Lost Worlds: Adventures in the Tropical Rainforest.