THIS IS A DEMO SITE FOR THE CORPORATE CLEAN THEME. PLEASE DO NOT CHANGE THE THEME.
The White House Doctor: My Patients Were Presidents: A Memoir (Paperback)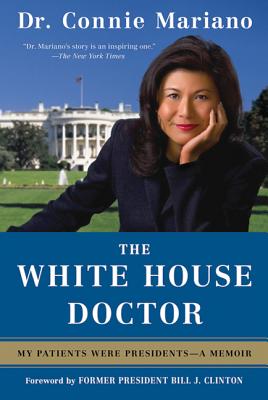 $22.99
Usually Ships in 1-5 Days
Description
---
A riveting look into the personal lives of our presidents through the eyes of their White House doctor

"An interesting, behind-the-scenes glimpse of life at the White House." - Kirkus Reviews

Dr. Connie Mariano served 9 years at the White House under Presidents George H.W. Bush, William J. Clinton, and George W. Bush. She participated in world headline-making news events and traveled all over the world. She cared for visiting dignitaries and was charged with caring for all the members of the First Family. From flirting with King Juan Carlos of Spain to spending the night on the Queen of England's yacht, Dr. Mariano glimpsed a glittering and powerful celebrity that few ever see.

White House Doctor is a fascinating look into what goes on behind closed doors at 1600 Pennsylvania Avenue.
About the Author
---
In 1992, Dr. Connie Mariano became the first military woman in American history to be appointed White House doctor. The founder of the Center for Executive Medicine, a medical concierge practice providing presidential-quality medical care to CEOs and their families, she now lives in Scottsdale, Arizona.